Hope in Cuba
Posted on July 15, 2020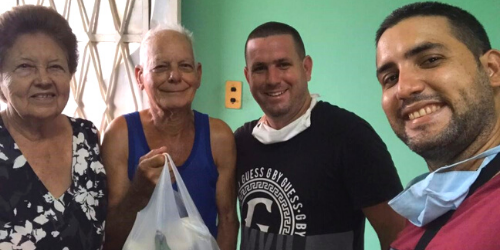 It is hard for my wife and me to hear the regular reports from Cuba about how difficult life is becoming for our people, where it's nearly impossible to find even basic staples.
But I thank God for the privilege of partnering with the people of God to be part of the solution! Because of the generosity of our supporters, over 360 Cubans facing desperate need recently received life-giving food through our local church partners.
Berto* and Nora* (pictured above) are an elderly couple who live on a government pension of about $10/month. The day that Global Action coordinators arrived with food, they literally had nothing left to eat. With no food and no money, they had prayed together: "The Lord is my Shepherd, I shall not want…"
God knew their needs, and He provided through His church: through the generosity of our donors, by raising up godly local leaders in advance through Global Action, and by connecting these local leaders with people in need. Praise God for the gift of being part of His global church!
I encourage you to join with us as we meet urgent physical needs through local churches and leaders. Together we can be a blessing.
In Christ,

Yuniel Cruz
Director of Latin America

Give Hope
Back To Blog