Divya's Story: A Journey of Redemption
Posted on September 29, 2022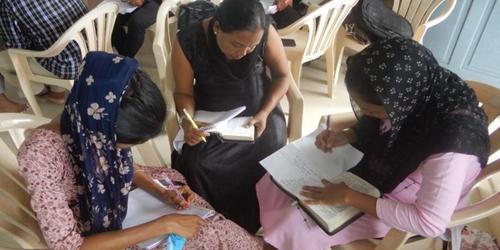 Divya*is one of nine women taking part in the Global Action's Foundations course in the Andaman Islands. At her request we are not using her real name or showing a picture that includes her because, like many of our students, the path that led her here is filled with heartbreak, hardship and cultural embarrassment. 
At age 34, Divya found herself finally free from an abusive marriage. However, as a single mother she was shunned by her community that still attaches a woman's worth to her husband. Divya moved to a different town and worked odd-jobs to get by and support her son. During this difficult time, she lost all faith and turned her back on God.
One day a neighbor befriended her. Together, they began to pray. Through this, Divya found peace for the first time in many years. She re-committed her life to Christ and the mission work she hoped to someday do. In fact, Divya had long been looking for an opportunity to formally study the Bible.
"God answered my prayers and is now fulfilling my heart's desire through Global Action's GLOMOS program," Divya says. "I had been praying for such an opportunity for a long time but couldn't get one until your team arrived with the perfectly designed ready-made biblical studies program for me and my batch mates."
Divya credits her studies with strengthening her personal relationship with God and equipping her to be a group leader in her church. In becoming a missionary, Divya wants to draw on her own experience to help other destitute, tormented and neglected women by showing them that with God's love, a better future is possible. Thanks to your support, Divya is able to do the important work she has always felt called to do!
*Divya is a name of Indian origin that means "divine brilliance." Our director thought it fit her well!
Back To Blog