Helping the People of Syria
Posted on February 13, 2023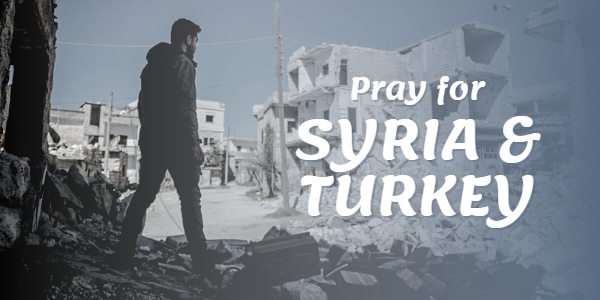 The death toll in the Turkey-Syria earthquake has now surpassed 30,000, and it is expected to continue rising. While an estimated 200,000 people remain trapped beneath the rubble, journalists on the ground are reporting that millions have been left homeless.
One of our team members has felt called to help, and he is currently in Syria working with churches and schools to provide relief. His name is Basem Nasif, and he works with Global Action in the hard-to-reach places. I travelled with him throughout South Sudan and was impressed by his courage and creativity as a leader. He has lived and worked throughout North Africa and the Middle East as a modern-day Apostle Paul for more than a decade.
Basem has been on the ground in Syria serving people who have been displaced—sharing the love of God in whatever way he can—handing out food and blankets and copies of the gospel. When I spoke with Basem yesterday he said the people of Syria have lost more in 50 seconds than they did during the entire Syrian civil war.
We are following developments on the news and getting first-hand reports from Basem. We certainly can't do everything, but we want to help when and where we can. If you want to help Basem serve the people of Syria, you can donate here.
For the world,
Lionel Young
Executive Vice President
Back To Blog