Congratulations to the First Recipient of the Phil Long Scholarship!
Posted on November 15, 2021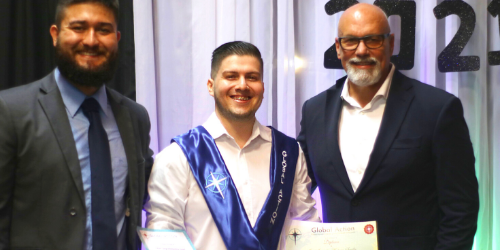 Ignacio Savilla was born into a Costa Rican family that didn't know Christ. But when his uncle led his father to Christ and invited Ignacio to a Bible study in his home, Ignacion encountered the living God. He was born again!
Whatever Ignacio sets his mind to, he goes all in. As soon as he gave his life to Christ, he immediately began to hunger and thirst for knowledge, wanting to learn everything he could about the Bible and his Savior. He also sensed a calling to start a Bible study in his home, which began with a few family members and now includes many people from his community.
When Ignacio had the opportunity to study with Global Action's Foundations program, he was thrilled! After graduating a few weeks ago, he shared that the program has had a significant impact on his life and ministry. Not only has he gained essential knowledge, but that knowledge has been bearing fruit. In his own words:
"My relationship with the Lord has been strengthened, I've learned how to better serve my neighbor and show God's love to them, I understand the importance of biblical leadership and the value of sound discipleship in the church. I have also been provided with useful tools that are important for my ministry in teaching the Word of God, helping me to improve not only the way in which I prepare my sermons but also the way in which I deliver them to the people that so faithfully show up every Wednesday night."
As his Bible study continues to grow into a church, Ignacio senses the Lord calling him to become a pastor. He takes the responsibility of pastoring very seriously, and he desires to continue going deeper in his theological studies. When the Global Action team presented him with the Phil Long Scholarship to study at the School of Pastoral Studies (ESEPA) in Costa Rica, he was astounded:
"It is nothing short of amazing for me to see that the Lord has provided me with this opportunity to study at ESEPA Seminary. I'm greatly thankful for those who have supported me through this process, and for each person who has made it possible for Global Action to bless me with this scholarship."
"I have a great burden in my heart to do my part in the Great Commission. This pushes me everyday to do all that I can to be better equipped and prepared to carry it out."
Back To Blog