An Update from Our Chairman
Posted on October 07, 2020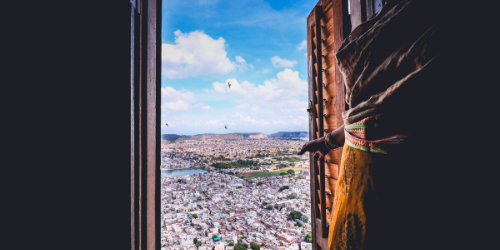 Wendy and I always find our time at Global Action board meetings humbling, exciting, and motivating. But this year's retreat was especially so. We were humbled because we can't believe that God has blessed us by allowing us to be involved with such an important ministry. Excited because, more than ever, we are seeing real growth and impact through the 12,000+ pastors and leaders that have been trained in the hard places around the world. And motivated because even in the midst of COVID, God is opening huge doors and enabling community transformation to take place through the Gospel being shared and lived out by our leaders.
As hard as 2020 was in the United States with quarantines and furloughs, it was MUCH harder in the developing countries within which we serve – no jobs, no food, and no help. We were so thankful that God opened the doors (through your important partnership resources) for our Good Samaritan Project, where we provided pastors around the world with food to distribute THROUGH THEIR LOCAL CHURCH AND MINISTRY to those in need. The response was amazing and we heard story after story of how God was magnified through these provisions. One quick story: One pastor in Ukraine was distributing food to the Roma people and as he gave food out one day, along with an explanation of the Gospel and God's love, 15 families knelt down at once and prayed to thank God for the food and to receive the message of Christ. And that was 1 story about 1 pastor on 1 day. Imagine what God is doing through the many, many others that were equipped and empowered to serve in this time of need. God is shining brightly through your current and future support of Global Action.
But the really exciting part is what God has in store for us in 2021. God willing, we will be equipping more than 1900 pastors and leaders this year AND we will be adding a new module and focus on community transformation. Living out the Gospel every day and in all aspects of our life. Each of the 1900 pastors and leaders will also be developing detailed ministry plans that will help them develop a BIG vision for what God has for their lives. Each leader typically ministers to 50-100 people in a new church plan or ministry and the math is staggering regarding lives touched with the Gospel through 2021's ministry work — 95,000 to 190,000 lives touched with God's love and hope.
BUT, there are 400 pastors and leaders in Kenya that want to be equipped — we've had to put on hold because we don't have the funding to train them this year. So, I ask that you join with us to pray for partners that will help us reach the many visionary leaders in developing nations transform their communities with the Gospel.
I'm so thankful that God has allowed Wendy and me to be involved in this important work. We honestly can't imagine not being part of what God is doing through Global Action. Acts 20:24 states "But my life is worth nothing to me unless I use it for finishing the work assigned to me by the Lord Jesus Christ – the work of telling others the Good News about the wonderful grace of God." We need more people to join with us in empowering leaders with a solid foundation — is God calling you to be involved or to be more involved. We'd love to have you partner with us in this great journey!
Bob Smith
Chairman of the Board
Back To Blog