Happening Today – Trauma Training in Ukraine
Posted on December 06, 2022
The gospel transforms lives—and binds up the wounds of the brokenhearted! What good news for us all. As you read these words 60 pastors and ministry leaders are gathering together somewhere in Ukraine for a trauma healing workshop. We have ministry leaders attending who are:
Serving in occupied regions, such as Kherson
Working with recently released female POWs who have suffered severe abuse in captivity
Travelling regularly to the front lines to serve soldiers and the citizens caught in the crossfire
Assisting traumatized refugees who have lost everything
Helping search bombed-out buildings for trapped survivors (often the elderly have been left behind)
Each of these leaders has also personally suffered trauma and loss during the war, and each of them has encountered unimaginable trauma on a daily basis among the people they serve. They are pouring themselves out for others, and we are pouring into them.

Now is the time for us to stand with these courageous leaders.

In collaboration with biblical trauma experts from The Resilience Resource, we are equipping Ukrainian pastors and leaders to provide compassionate care in crisis. Our heart is for them to experience healing and to be equipped with the resources they need to go back to their communities and spread hope. Please pray with us for all the leaders attending this week's training.

This is the first of many trauma healing and equipping events we plan to hold in Ukraine over the next year. Will you help us equip more Ukrainian leaders to provide compassionate care in crisis? Right now your gifts to Global Action will be matched for double the impact. Will you partner with us to help bring hope, healing, and light to a hurting world? Now is the time.
---
"I will use the experience obtained during the trauma training to serve the people living in the liberated towns and villages of the Kherson region. Our church ministers to people who have been under under Russian occupation. They all have psychological trauma and PTSD. The experience gained will help us serve people better and tailor our ministry to people's needs."

—Pastor Danil
---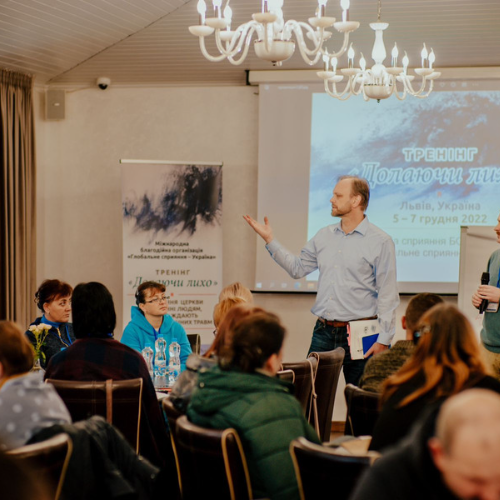 Back To Blog